Community Chamber Orchestra Photo Gallery
Larry Currey, Trumpet soloist on March 18, 2022
Here are photos by Michelle Tessaro from our Strings and Songwriters Showcase in July, 2021.
Photos by Michelle Tessaro, Michelle's Lens Photography
More photos from our St. Patrick's Day Concert
Nashville Thanksgiving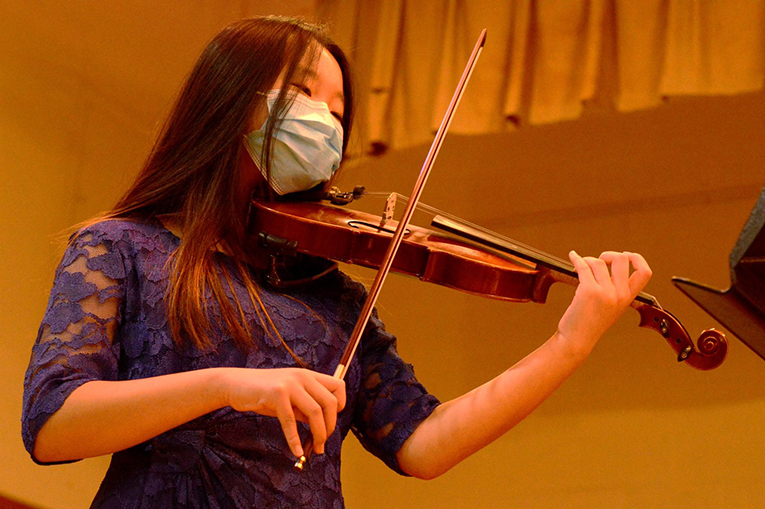 Photo by Michaela Blockcolsky
Main Zhao beautifully played violin solo on "Faded Love" with Selena Bennett at the piano.
On Friday, July 2, at 7:00 pm "Strings and Songwriters: A Showcase of Local Composers" will be presented at Morganville School, 307 Main (67468). Polychords Records' singer/songwriter Elizabeth Anne Mall has written original works for this concert including a 5-movement string orchestra "Prairie Song," a cello quartet, and vocal/orchestra songs in which she will sing. Three young songwriters in grades 5, 8, and 10 are participating in workshops with Elizabeth and will perform their own works on the concert for voice and piano. Every song on this program will be be a premier! Come enjoy and also help encourage the new crop of Kansas songwriters! As a child and adult Elizabeth has played cello, sung vocal solos, played keyboard, and composed for the Orchestra. She has a degree in Music Ministry from College of the Ozarks, and is currently an online student of Biola Univeristy in a graduate program for Christian Apologetics. She now resides in Wichita with her husband and two small children.

| | |
| --- | --- |
| | |
| | |
| | |
The Orchestra was joined by Brazilian guitar soloist Braulio Bosi on June 2, 2019 in Life's Finer Moments Main Lodge.
Here is the view from the balcony of "Life's Finer Moments" of our 2018 Christmas Concert in the Main Lodge.
Photo by Black Horse Studio, Clay Center, Kansas
Photo courtesy of Ryan Wilson and Clay Center Dispatch
Celebrating the 20th Season of
Community Chamber Orchestra!

The first event celebrating our 20th season was "Love Songs and Sweets Buffet" on Feb. 12, 2017 in Morganville School. As the Orchestra played works from its past years, and some new ones, the audience sampled our dessert buffet, visited at tables, and even danced!
Click on the program image above to see the full program

"The Orchestra performed its "Love Songs and Sweets Buffet" on Feb. 12, 2017 in the Morganville School to celebrate its twentieth year of operations.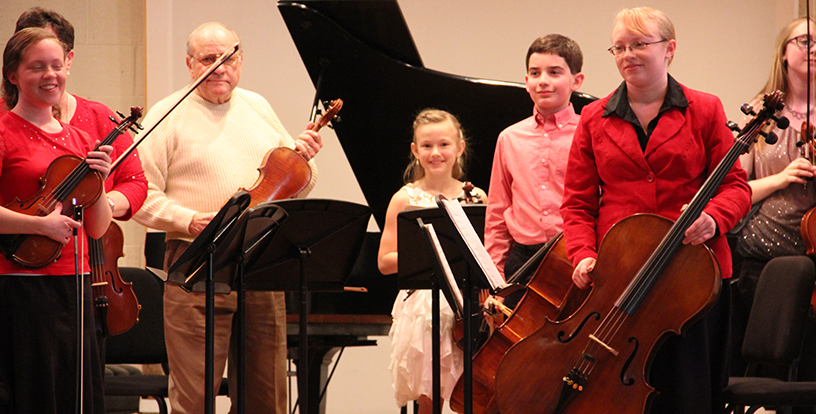 Here is how we looked from the balcony of the Clay Center Methodist Church for Dennis Bergin's concert on June 6, 2016.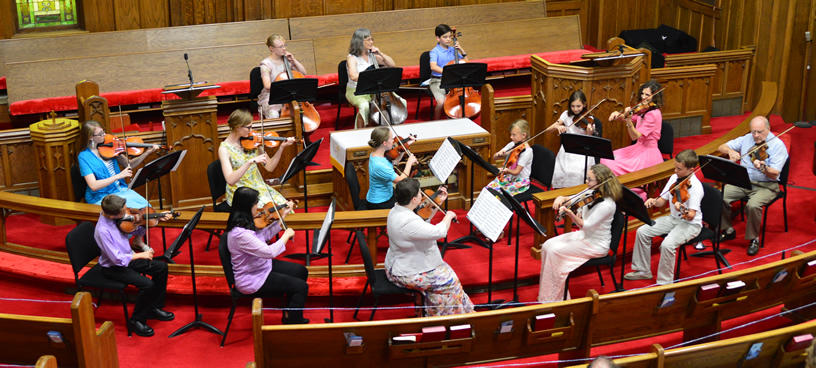 Photo by Michaela Blockcolksy
Elizabeth Mall's new LP "Belle Laide" is NOW AVAILABLE from iTunes, Amazon, Google Play and Spotify.

Here are Michaela Blockcolsky's and Ken and Cindy Kelley's photos of our Sept.18 tour to Hope and Herington Elementary Schools. The tour was made possible by the Community Foundation of Dickinson County, Inc. and those on our Sponsors page.
Here are Michaela Blockcolsky's photos of our Nov. 7, 2014 tour to Abilene, Kansas, elementary schools, in which every child of about 560 got to try out one string instrument after hearing the orchestra play for them.
Our June, 2014 concert at the Morganville School


Photo by Michaela Blockcolksy


Photo by Jim Beck Photography
Dr. Gary Mortenson, Chairman of the Kansas State University Music Department , has notified the Community Chamber Orchestra (kansasmusic.net) that it has been selected to receive a Sabathil Double Harpshichord on permanent loan from KSU. The Orchestra is placing the harpsichord on the stage at the Green Christian School ( Flint Hills Christian School at Green) to be used there for concerts and with the orchestra program. A double harpsichord has two manuals of keys and produces a light guitar-like sound caused by its strings being plucked. It predates the modern piano in history. Some of the world's most famous classical music, by composers such as Bach and Handel, was written for this instrument. Photo (courtesy of Asa Peterson): Dr. Anne Clark , Director of the Community Chamber Orchestra, stands beside the KSU Sabathil Double Harpsichord on the stage of the Green Christian School.
The Orchestra performed on the historic Morganville, Kansas outdoor stage on May 27, 2011.
Photo by Michelle Tessaro.

Above Photos from our Piotique 2008 concert with Ana Lourdes, guest soloist from

Miami, Florida

.

Our musicians played with many extra percussion sound effects for our Ducktails original children's musical.

Here are photos of our volunteer readers for the 2006 Piotique History Concert "Letters from Morganville".

Click on the pictures below to view actual size


Here was our stage setup for the 2006 History Concert, "Letters from Morganville".


Photo by Michelle Tessaro


Photos by Michelle Tessaro